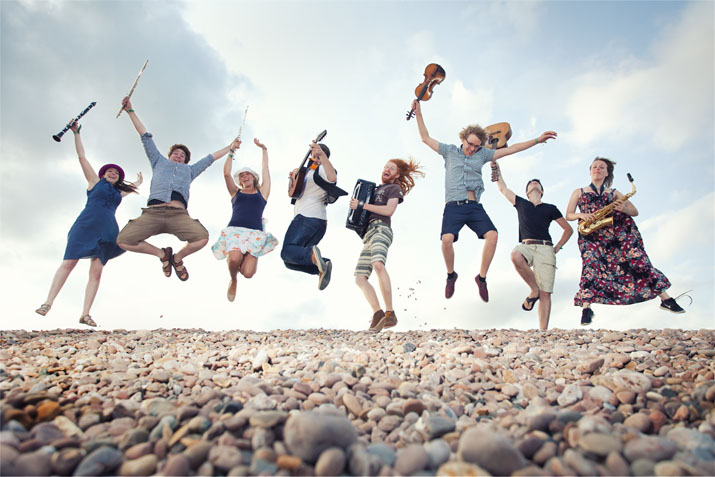 Threepenny Bit formed early in 2011 as a trio, featuring Chris Nichols on violin, Helen Gentile on clarinet and Guy Moore on guitar and drums. Their aim at the time was to form a busking band and take to the streets of Hampshire, to avoid the need for part time jobs during University. They were frequently joined, both busking and gigging, by other members of the University of Southampton Folk Society (co-founded by Chris and Helen), which was how Hannah Gray and Josh Robson-Hemmings found their place in the group. The band first played as a five at the Winchester Hat Fair in the summer of 2011, a performance experience that quickly and unanimously convinced them to solidify this new, expanded line-up. Shortly thereafter, the new-and-improved Threepenny Bit recorded their first album, Something..., and continued to perform all around the south of England, developing their style and stagecraft.

In the autumn of 2011, both Hannah and Helen moved temporarily abroad in order to continue their studies, and it looked as though the band would have to wind down for the winter. It was at about this point, however, that Guy and Josh crossed paths with Jason Beaumont, Steven Troughton and Ruth Burrows and so, with new musicians on board, the band began to experiment with more complex musical ideas and arrangements.

Once Hannah and Helen were back on England's shores, the band's second album, Cartography, was written and recorded, and subsequently nominated for the FATEA Awards' 'Instrumental Album of the Year' in 2013. That year also saw the band's debut on the folk festival circuit, with performances at Wimborne, Bath, Purbeck and Rochester. They also supported bands such as Blackbeard's Tea Party, The Monster Ceilidh Band and Habadekuk, as well as standing in for John Tams and Barry Coope at the Forest Folk Club when snow wrought havoc with the duo's travel plans.

2014 saw Threepenny Bit take their sound another step further with the release of their third album, Pantomime Cannon. The composition and recording of this album was approached in a completely different way, in an effort to capture the energy of their live shows. Previous albums had seen each instrument recorded in isolation, but a move to The Ranch Production House with its cavernous live room allowed the band to play their new arrangements as one. The album was released in September 2014 to universal critical acclaim and widespread radio play. Their prominence on the festival circuit has also increased with 2015 seeing the band perform at Shrewsbury Folk Festival, Cambridge Folk Festival, Ely Folk Festival, Wimborne Minster Folk Festival and the London Folk Festival as well as returning to Sidmouth Folk Week, Purbeck Valley Folk Festival, Folk on the Quay, Rochester Sweeps Festival and Folk Weekend Oxford.

2015 was a huge year for Threepenny Bit as the UK festival circuit finally caught up with the outrageous energy and musicianship from this young band. A headline slot on The Den stage at Cambridge Folk Festival was followed by a capacity crowd at Sidmouth Folk Week and a performance at Shrewsbury Folk Festival among many others. The band also welcomed Ross Gordon on the drums following Guy's departure from the band. A member of afrobeat, metal and jazz bands, Ross brought new ideas and grooves to the Threepenny Bit melting pot.

The band embarked on their debut UK tour in 2016. Ross's presence on drums saw the sound evolve and tighten over the year. In October, with help form the SoCo music project in Southampton, The EP Hightown Sessions was recorded. This EP was recorded in one day with no overdubs and filmed with multiple cameras to give every track its own studio video. You can watch each one for free on the Threepenny Bit YouTube Channel.

Another tour and lots more festivals followed in 2017 and planning for the band's next full length album is well and truly underway.
Jason Beaumont- Flute, Bass Guitar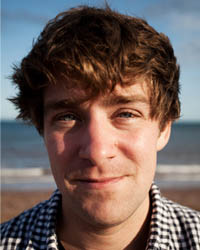 Jason grew up in Egham and began learning the flute at the age of 6, and although he began his music degree specialising in piano, graduated with a Masters degree in classical flute performance in 2011. He also plays the bass guitar, and is greatly in demand for performance with musical theatre shows in Southampton. An impatient soul, Jason quickly becomes bored with just 'playing the tune' when performing with Threepenny Bit, and his incessant improvisation has become integral to the band's sound. He also has a passion for catering and enjoys playing the perfect hostess, providing everyone with hot beverages. Despite his variety of talents, however, Jason has proven himself to be most proficient in the art of putting his foot in his mouth.
Ruth Burrows- Alto Saxophone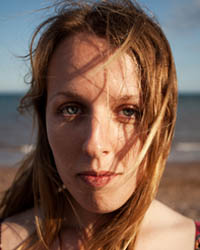 Ruth grew up near Bristol, in a household where the learning of musical instruments was strongly encouraged. She discovered classical alto saxophone at the age of 10 and has gone on to graduate with a BA in music from the University of Southampton just over ten years later. Ruth's love of folk music was initially influenced by the music her Dad used to play in the car, such as Fairport Convention, Lindisfarne, June Tabor and Oysterband, but it was the discovery of Bellowhead via Mike Harding's Folk Show that propelled this into a desire for a career in the field. Now living in Southampton, Ruth also has a keen interest in Killer Sudoku puzzles, Chinese historical fiction, and daytime television.
Helen Gentile- Clarinet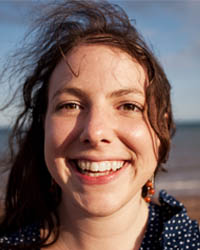 Helen hails from Taunton in Somerset and began learning the clarinet aged 7. She has been folk dancing since childhood, her parents having had their first encounter at a folk dance, and has participated in various folk ensembles at college, going on to co-found the University of Southampton Folk Society in 2010. Helen studied languages at Southampton and lived in Brittany for a year, where she undertook an ethnographic research project exploring Breton folk music and dance as part of her undergraduate degree. Based in Southampton, she is a clarinet teacher for the Hampshire Music Service and regularly plays with other groups including The Horse and Monkey See Monkey Do.
Hannah Gray- Flute, Low D Whistle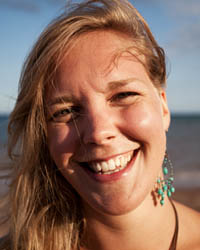 Devon-raised Hannah began learning the classical flute aged 8, going on to play in orchestras and ensembles, and taking up the tenor saxophone in her teenage years for a bit of variety. She grew up listening to the likes of Led Zeppelin and Pink Floyd and only really discovered folk a little later on, an interest that was nurtured whilst playing with the University of Southampton Folk Society. In addition to her musical talents, Hannah is a qualified audiologist, and has undertaken the role of hearing-protection consultant to the other band members. She is based in Oxford, and also plays and sings with James Bell & the Half Moon All Stars.
Ross Gordon- Drums, Percussion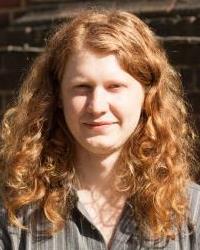 Ross grew up in Twickenham and tried his hand at many different instruments including piano, guitar, and violin before finding his love for the drums; he has also recently discovered a talent for playing the spoons at folk sessions! He graduated with a degree in maths and music from the University of Southampton, and manages a hectic life playing with The Sea Slugs (a 14 piece afrobeat extravaganza), The Madcap Ponderlings (a vaudevillian, macabre and carnivalesque rock band) and The Fraktions (a djentmetal ensemble), adding Threepenny Bit to his lengthy list of responsibilities in 2015. Ross also plays with various acclaimed London musicians and is house drummer for several jam nights. Somehow, he finds the time to do web design as well!
Chris Nichols- Violin, Viola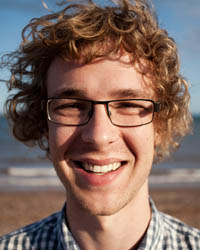 Born and raised in Cornwall, Chris began playing the fiddle when he was 10, and has performed with various Cornish dance groups including Ros Keltek and Hevva (of which he was a founding member). Whilst at university, he helped form the University of Southampton Folk Society, and graduated in 2012 with a BA in music. Chris spent his first year as a real grown-up living the life of the musician, busking and gigging to pay the rent. He missed the education system too much, however, and now works for the Southampton Music Service, teaching part-time in primary and secondary schools across the city.
Josh Robson-Hemmings- Acoustic Guitar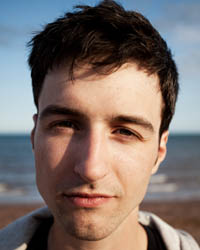 Josh was born in London, but spent his youth between Bristol and Oxfordshire. Inspired initially by nu-metal and funk music, he took up the electric guitar at the age of 12, and quickly became involved in the Bristolian alternative scene. This chapter of his musical life ended when he moved to Southampton to read physics at the university, and chose to spend his first student loan installment on an acoustic guitar - a decision for which he is still mocked by his former bandmates! He quickly became involved with the University of Southampton Folk Society, and the rest, as they say, is history. Josh graduated with a Masters degree in 2011 and now works as a research physicist for Sharp in Oxford. Somehow he has found the time to teach himself melodeon and mandolin, and to perform with James Bell & the Half Moon All Stars.
Steven Troughton- Accordion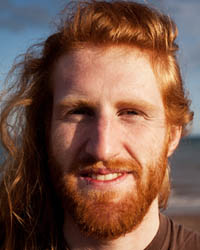 Steve grew up in St Albans, and began his musical life dancing to Eric Clapton in his Grandma's living room, and endlessly hitting the 'demo' button on his Casio SA-1 keyboard (which plays an excellent version of Wham's 'Wake Me Up Before You Go-Go', for those interested). He started playing piano at age 7, picked up the trumpet in his first year of secondary school, then learnt the guitar upon discovery of his first real musical obsession - Led Zeppelin. After graduating with a BA in music from the University of Southampton in 2011, Steve began teaching himself the accordion as little more than a new hobby; subdued fingerstyle guitar was satiating most of his folk performance desires, but the appeal of the boisterously jolly accordion couldn't be quelled! Steve performs regularly with film noir style jazz band Fedora Cafe, and experimental pop project Freeze Puppy, amongst others.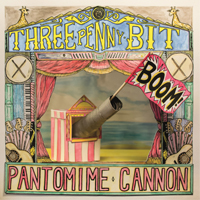 Pantomime Cannon(2014)
Pantomime Cannon captures the band's live sound on a studio recording. It branches away from the traditional catalogue of folk music both in terms of composition and arrangement, but retains the lively, danceable feel for which the band is known.

"The most head-spinningly original album to emerge from the current crop of young folk collectives this year. Forget nodding along approvingly, this is an all-out musical bombardment"
Rob Fearnly, Bright Young Folk

"Bursting with Energy"
Martin Chilton, The Telegraph

"Their sound blends traditional with self-penned into a wash of dance tunes ranging from mildly energetic through decidedly graceful to seizure-inducing fanaticism. This is far more than casual toe-tapping interest it's full-on engagement from the outset"
Tim Carroll, FolkWords

"It's addictive stuff as forays into rock and jazz blend with interpretations of trad British Dances"
The Musician

"The album attempts to recapture the feeling of the live performances, the musicianship is of high quality, the choice of material is varied and the arrangements and production is excellent"
Alan Morley, UK Folk music

"Threepenny Bit's album is a great bit of fun, it's full of wonderful sounds by a band which clearly enjoys doing what it does and delivers exactly what it says on the tin a pantomime fired at full pelt"
Danny Farragher, Folkall

"This third album, Pantomime Cannon is a hearty stab at a difficult task. With rock producer Jim Harding at the controls, the raw energy and wilder edges have survived what can be a sterilising experience in the studio"
Nick Churchill, FATEA

"If you like tunes there are few better than Threepenny Bit"
Shire Folk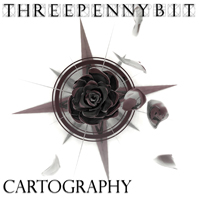 Cartography(2012)
Cartography is Threepenny Bit's first album as an eight-piece, and begins to explore the musical possibilities afforded by the expanded line-up. While still predominantly traditional, Cartography ventures further into the repertoire of recently-composed folk music. The album was nominated for the FATEA awards' 'Instrumental Album of the Year' in 2013.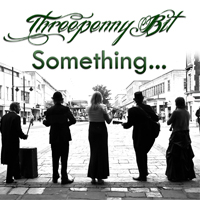 Something...(2011)
Something... was recorded at a time when Threepenny Bit comprised only five members. It features mostly-traditional, lively tunes, and reflects the band's busking origins.