Threepenny Bit are available to hire for weddings, parties and other private functions.
'Ceilidh' is the old gaelic word for 'party' or 'gathering'. Also known these days as a barn dance, it's become the byword for a fun filled night of wild dancing, good company and great music.
A Threepenny Bit ceilidh is the perfect antidote to awkward dance floors and rubbish DJs!
You'll get our unique sound of contemporary ceilidh music. Saxophone, flute, clarinet and electric bass sit alongside fiddle, guitar and accordion to create infectious grooves and tunes. Head over to the
Listen
tab to hear for yourself. 'But I can't dance!' I hear you cry - not to worry, an expert caller will be on hand to talk you through the steps and encourage even the most reluctant guests to join everyone on the dance floor. If you have any requests for particular Scottish, Irish or English dances, we can arrange this, given notice.
Threepenny Bit are the go-to ceilidh band in the South - FATEA magazine
Hiring Threepenny Bit
Whether it's a wedding, birthday, office party, or general shindig, we've played them all and are happy to offer advice on timings and organisation for the evening. We provide all of the necessary PA equipment. If you require use of our sound system for speeches and other music, just ask.
All our equipment is PAT tested and we carry full public liability insurance.
We are based in Southampton, and are willing to travel as necessary. We frequently perform in Hampshire, Berkshire, Surrey, Wiltshire, London, Dorset and Sussex, but have previously ventured as far afield as Devon, Herefordshire, Hertfordshire, Kent and even Belgium, so please do not allow concerns over distance to discourage you from contacting us.
For bookings and enquiries please
contact us via email
.
Testimonials
"Toby and I just wanted to say a huge thank you for such an awesome ceilidh at our wedding on 1st April! We literally had the best day of our lives and you guys were a huge part of that. We loved how many different genres you drew on and your caller was absolutely brilliant. Everyone had such a good time and with a few music-heads among our family and friends there was such an appreciation for how good you all were." - Georgia & Toby, wedding ceilidh 2017
"We just wanted to email to say such a massive thank you for playing at our wedding. There were a number of our guests who had never done a ceilidh before and they all loved it. Thank you for your flexibility with our poor time keeping too, we really did appreciate that." -
Beth, wedding ceilidh 2017
"Threepenny Bit are just fantastic - every member of the band - and your unbelievable caller who got everyone up joining in. Thanks to them all we had a fantastic evening - please pass on my appreciation and also that of the charity, to them." - Ian, charity ceilidh 2017
"Thank you very much for the spectacular job you did at our wedding last Saturday. What amazing musicians you all are and you brought so much fun to our wedding, which was exactly what we hoped for. So many people commented on how brilliant you were and how much they loved the ceilidh. Your relaxed yet professional approach throughout the whole process was really spot on and I wouldn't hesitate to recommend you to anyone else. Thank you again - me and my friends are already thinking about when we might be able to catch you again!" - Sarah, wedding ceilidh 2016
"Guys, we just don't have the words! You were fantastic from start to finish and really, really made the night for us. The melding of the band's enthusiasm and incredible musicality was awesome." - Sean & Jen, wedding ceilidh 2015
"Thank you so much for Saturday! Everyone said they loved it and really got into it. My Dad is still raving about you guys and keeps putting you on Spotify!" - Georgina, wedding ceilidh 2015
"I had a fantastic time and thought you guys were perfect! The caller had endless energy, even on such a hot/humid evening! I have had so many follow on comments from guests about how much they enjoyed the ceilidh, how well the music was played and how much fun they had! All of this is down to your troupe!" - Toby, wedding ceilidh 2014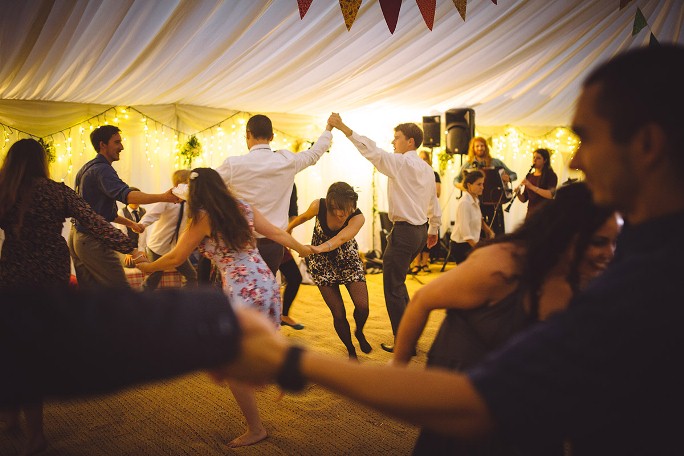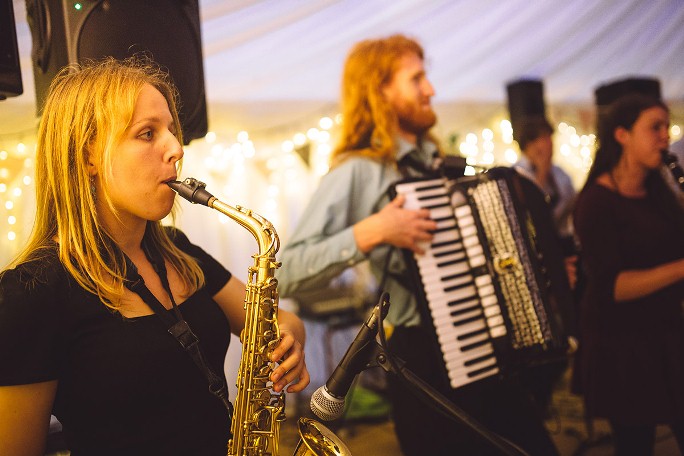 Threepenny Bit performing at a wedding in Salisbury
Photos by Joseph Hall